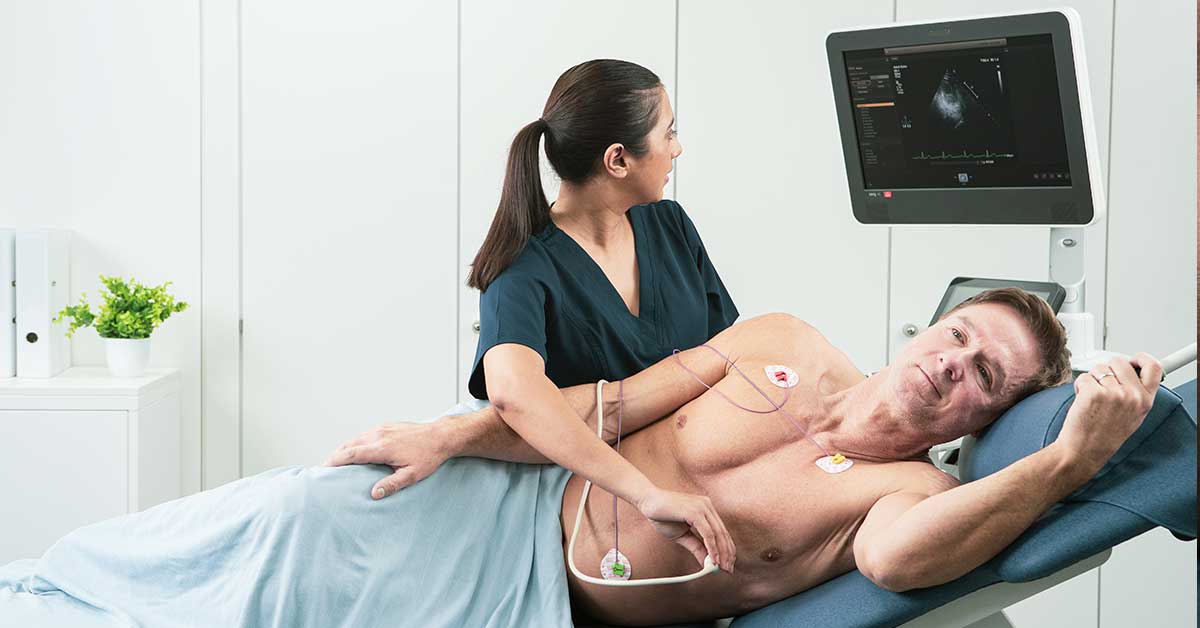 Diagnosing heart failure with AI - New advances in echocardiography
Heart failure (HF) is one of the leading causes of death and morbidity. The number of patients with heart failure worldwide nearly doubled from 33.5 million in 1990 to 64.3 million in 2017. Early and accurate measurements of heart failure are vital to detect the disease early and reduce mortality rates. LV ejection fraction and strain are recommended by ESC to diagnose heart failure, but the measurements suffer technical limitations. In addition, practices are not fully utilising strain which can detect HF in patients with preserved ejection fraction (HFpEF), prevalent in 50% of heart failure (HF).
Thankfully, new advances in AI technology can automate echo analysis to support clinical decision-making and provide consistent, repeatable measurements, to accurately diagnose both systolic and diastolic heart failure. Ultromics' fully managed reporting service, EchoGo, is clinically proven in peer-viewed papers to predict heart failure better compared to manual alone. Its service includes over 230+ measurements to help practices take advantage of effective measurements like strain, without the need for additional time, training and cost. Keep reading to learn how EchoGo AI is revolutionizing echocardiography.
Legacy challenges of predicting heart failure

In echocardiography, the left ventricular ejection fraction (LVEF) guides treatment of heart failure. An ejection fraction measurement under 40 percent may be evidence of heart failure or cardiomyopathy.
While echocardiography has been "the single most useful diagnostic test in the evaluation of patients with HF" the analysis and interpretation of the results can be both time consuming and variable.
According to a report in the Circulation Journal: "Diagnostic errors are a major unresolved problem. Not only can cardiologists differ from one another in image interpretation…the same observer may come to different findings when a reading is repeated."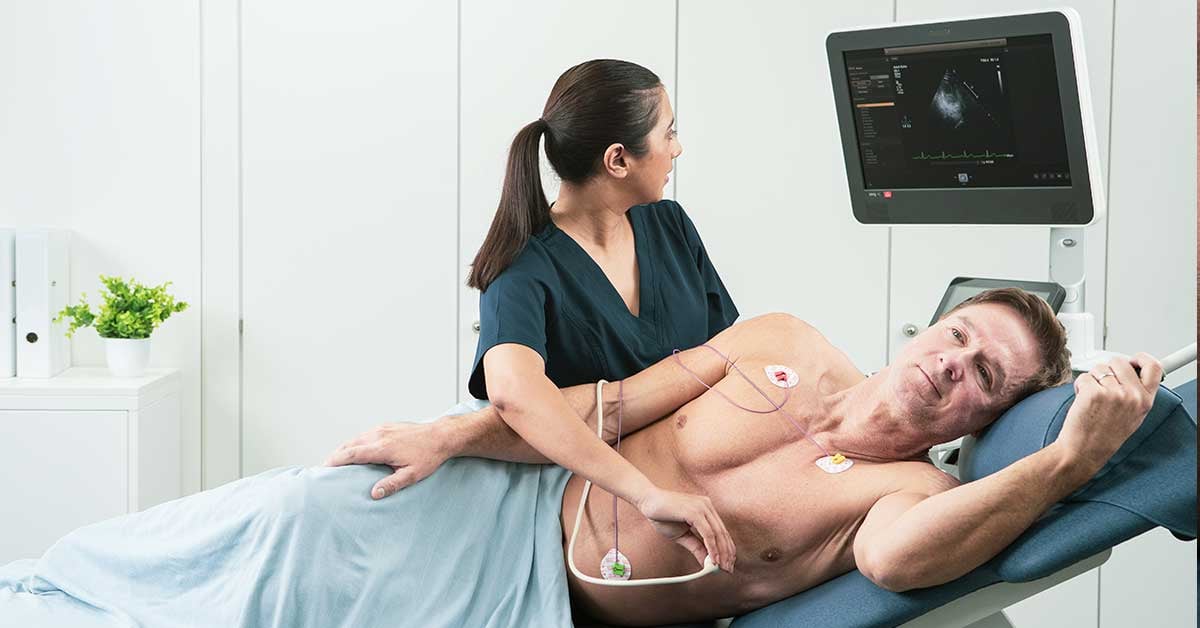 In addition, ejection fraction is not always useful prognostically. Around 50% of Americans present normal or near-normal (preserved) ejection fraction, also referred to as diastolic heart failure, and can still have heart failure. In this scenario, detection of diastolic function is often indeterminant. A study found 10-36% of HF patients have undetermined diastolic function.
One answer is to also analyze global longitudinal strain (GLS) while investigating a patient for heart failure. In fact, both the American Society of Echocardiography (ASE) guidelines and the European Society of Cardiology (ESC) guidelines recommend global longitudinal strain (GLS) as an indicator.
However, while GLS analysis has been shown to be an effective solution for identifying heart failure, it requires specialist training, equipment, and extra analysis time. Additionally, most GLS software still requires some level of manual approval and implementation, which can add 20-30 minutes of imaging time. In addition, while most vendors do offer strain modules for their ultrasound machines, they can be prohibitively expensive when added to the number of devices and software licenses also required for practical application.
Echocardiographers are under pressure to use the latest tools and measurements, while balancing study quality and increasing number of echos advised in the guidelines.
Related read: The multiple clinical applications of using EchoGo for global longitudinal strain

Automating heart failure measurements

AI-enabled technology has made its way throughout almost every sector in the world, and the medical industry is no exception. It not only offers opportunities for consistent interpretation, but also aids clinicians with taking effective measurements —including GLS — with minimal effort, cost or special training. This is because AI can automate parts of the process that can lead to inter-observer variability.
This automation can also streamline workflow to help echocardiographers better measure GLS and other HF indicators more routinely without impacting productivity. By combining the latest knowledge of GLS with the innovation of AI technology, heart failure patient outcomes and associated costs may be significantly improved.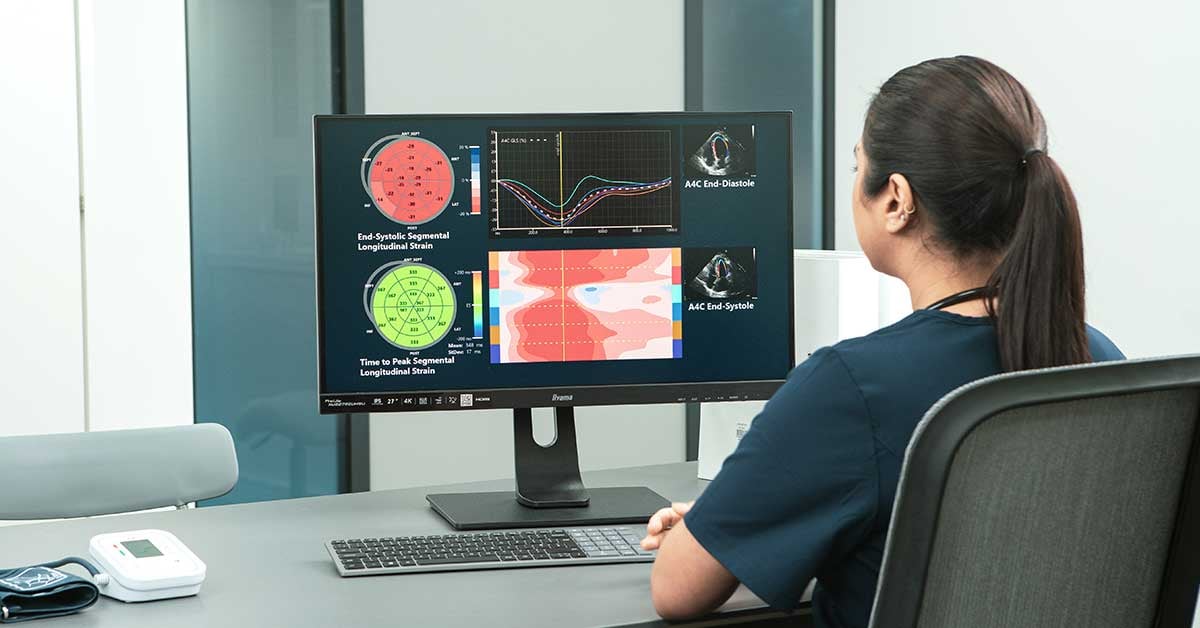 A new pathway for heart failure diagnosis: introducing EchoGo

Ultromics is paving the way to more patient focused care. It's AI offering, EchoGo, is a fully managed service that automates reports on over 230 measurements and HFpEF to help diagnose cardiovascular disease and heart failure.

The cloud-based software utilizes both automation and artificial intelligence to accurately assess GLS, which has been recommended in the European Society of Cardiology's 2021 heart failure guidelines as a complementary part of the patient diagnostic pathway.
EchoGo operates a little differently compared to current echo analysis software, it is a SaaS (Software-as-a-Service) platform which connects through the cloud and automatically takes scans for analysis and delivers reports throughout the day, which have been clinically proven to be precise and accurate. The service is able to automate over 230 echocardiographic measurements useful in diagnosing heart health, including LV Ejection Fraction, Strain and Volumes. Using EchoGo's reporting service helps clinicians overcome the current high levels of inter- and intra-observer variability. This ultimately improves outcomes, saves time, and boosts the speed and accuracy of diagnosis.
With this FDA-cleared and HIPAA-compliant platform, clinicians will have more confidence in their predictions of the risk of heart failure, and they can ensure significantly reduced variability between sessions and practitioners.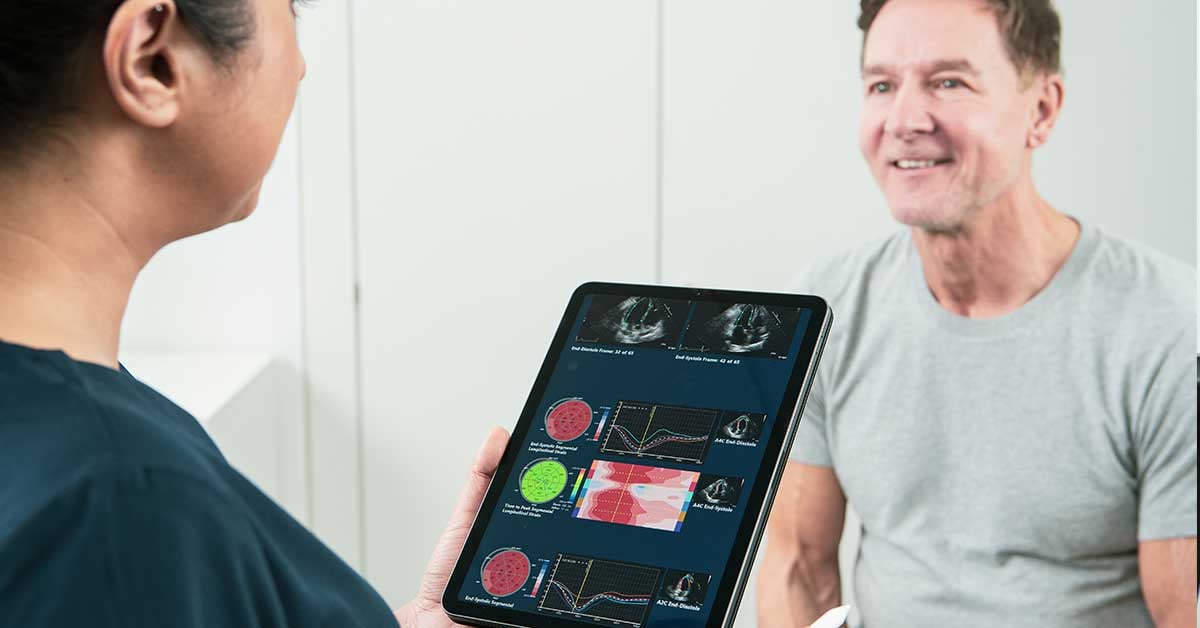 New studies find Ultromics' EchoGo vastly improves heart failure prediction
In a peer-viewed study in JASE, AI-enabled strain using Ultromics' AI-powered service could better predict HF outcomes, over manual and EF. The study assessed in 870 hospitalized patients (COVID-19) in a multi-national study with MedStar, University of Chicago, The Mayo Clinic, the American Society of Echocardiography and Ultromics. The study evaluated cardiac function and risk stratify in heart failure and outcomes. The study used Ultromics' fully managed reading service to automate cardiac measurements and predict heart failure and mortality.

The results showed there was no associations between left ventricular ejection fraction and mortality, but there was an association between left ventricular longitudinal strain and right ventricular free wall strain and mortality. Fully automated quantification using Ultromics' service, not manual software for analysis, minimized variability and was a significant predictor of in-hospital and follow-up mortality.
In research discussed at ASE 2021, with Dr. Patricia A. Pellikka from Mayo Clinic, Ultromics' AI-powered service was accurate in detecting heart failure patients with preserved ejection fraction. The study looked at 900+ patients to see if diastolic function was present. Using Ultromics to automate EF and GLS reports, the study showed AI-derived heart measurements using Ultromics can detect HFpEF with 96% accuracy.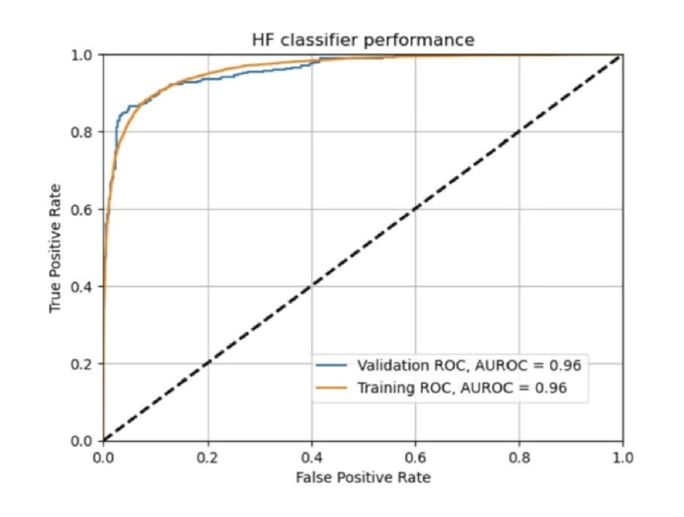 Ultromics' AI-derived measurements detects HFpEF with 96% accuracy.
Study results discussed at ASE 2021 by Dr. Patricia A. Pellikka, from Mayo Clinic.
Advancing the diagnosis of heart failure

Ultromics' AI can help diagnose heart failure early and help to reduce mortality and improve morbidity outcomes. While echocardiograms are a cornerstone of heart failure diagnosis, there is a potential risk of misdiagnosis due to variances in operator interpretation EchoGo , is a fully managed service that automates reports on over 230 measurements and HFpEF to help diagnose cardiovascular disease and heart failure.
A potential misdiagnosis is especially concerning in patients who present with heart failure with preserved ejection fraction (HFpEF) or diastolic heart failure, as the use of ejection fraction may not be enough. This is why global longitudinal strain is now recommended as a complementary measure for diagnosing heart failure. EchoGo can help echocardiographers take advantage of these additional measurements without the need for additional upgrades, training or cost.
To learn more about early detection and diagnosis of heart failure, the added benefits of GLS, and how EchoGo works with the new guidelines on CAD and heart failure, download our guide: 'AI in Echocardiography: Improved Heart Failure Detection'.