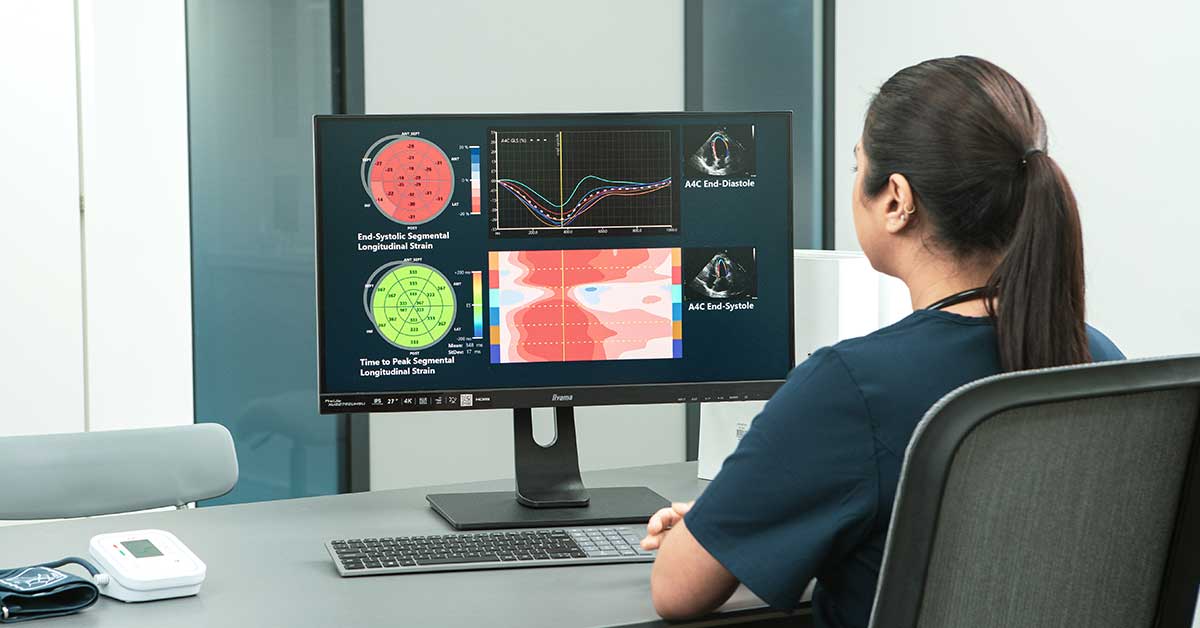 5 ways EchoGo Core can benefit your echo department
Artificial intelligence (AI) is increasingly permeating global industries and services, including medical practices. Echocardiography, in particular, is profiting from machine learning technologies with the introduction of EchoGo Core from Ultromics.
By automating echocardiographic measurements and analysis, clinics and hospitals across the US and UK are experiencing improvements in quality, efficiency, outcomes, and throughput of their echo departments.
Here are five key benefits that our state-of-the-art software platform can provide your practice.
1. Produce Better Outcomes
The AI behind EchoGo Core enables the production of incredibly precise quantitative diagnostic and prognostic indicators that are proven to accurately correlate to a patient's known outcome [1].
In a new study with the World Alliance Societies of Echocardiography (WASE) in the US, clinicians used EchoGo to predict cardiac outcomes in COVID-19 patients. The automated left ventricle (LV) clinical measures produced through EchoGo Core were repeatedly shown to be meaningful predictors of patient outcomes, unlike with manual analysis.
The auto contour feature consistently aligns with an outcome to provide accurate measurements for supporting clinical decisions. Output measurements are further proven to produce zero inter- and intra-variability, allowing your clinicians to access incredibly precise results every single time.
This is due to the rigorous outcomes-based data sets and scientific methods which trained EchoGo. The award-winning technology was developed by the world's leading experts on AI and echocardiography – and is now used in over 50 sites worldwide.
2. Save Sonographer Time
Huge amounts of time can be saved in the echo lab by automating the echocardiography process using AI in the cloud – and without compromising on the quality of results.
Currently, software for interpreting echocardiogram scans is only semi-automated and requires some manual analysis on software.
EchoGo Core can automate this complex and time-consuming analysis in the cloud, without any manual requirements from the operator. Reports can be sent without 'hands-on software' time, saving up to 25% of their allotted study time, leading to increased throughput and more manageable workloads.
The automation tool connects directly into PACs, and operates behind the scenes using a series of convolutional neural networks (CNN) that are able to track the LV border and generate output contours for each echo study frame.
Bespoke algorithms then determine optimal cardiac cycles from the data. This enables appropriate End-diastolic (ED) and End-systolic (ES) frame selection and analysis to support clinical evaluation through quantitative assessments of LV systolic function. Reports are sent back to the site, accessible from anywhere.
3. Zero Variability
Along with saving time for hospital staff, the automation of the entire echo analysis pathway ensures that there is zero subjectivity between or across sonographers and cardiologists.
As most echo software requires partial tracing of endocardial borders and measurements, the calculation and interpretation of results is sensitive to human error and creates high levels of inter- and intra-operator variability. EchoGo removes this vulnerability by automating the entire analysis pathway in the cloud, ensuring accuracy and reproducibility, no matter who is processing or reading the data [3].
Zero variability can be achieved across over 230 measurements*, including Left Ventricular Volumes (LV Vol), Left Ventricular Ejection Fraction (LVEF), Global Longitudinal Strain (GLS), and Regional Longitudinal Strain (RLS). This consistency leads to improved detection of subclinical disease in cases of Heart Failure, Coronary Artery Disease, Cardiotoxicity and Amyloid.
Up until now, the variability of Strain has hindered its wide adoption, despite it being widely known to be a better prognostic metric then EF. Now, clinicians can automate Strain using EchoGo, with its unique ability to automate the entire analysis pathway in the cloud.
4. Connect Securely in the Cloud
EchoGo Core is deployed as a Software-as-a-Service (SaaS), so there is very little setup and implementation needed to get started. Everything is hosted in the cloud and clinicians can get started with over 230 measurements straight away with no special training.
There are multiple benefits to using cloud-based technology instead of using in-premise software, including:
Rapid innovation:

Cloud allows you to bypass years of legacy technology, process, thinking and culture. Updates can be made automatically, so you always have the latest innovation and science.



Time savings:

It eliminates 'hands-on software' time so healthcare professionals can focus on other activities that cannot be easily automated.



Lower risk of errors:

When tasks are automated in the cloud, the risk of human error or oversight virtually disappears.



Access from anywhere:

Reports are accessible from anywhere, on any machine or device.



Rapid deployment:

Cloud only requires a single connection and can often be set up within 48 hours. It also requires no special training from your operators.



Higher security:

Cloud comes with embedded security features to ensure the highest level of patient data security.



Affordable:

With cloud there are no up-front costs and flexible pricing, such as pay per scan, so you can easily scale up or down as use cases grow.
This makes EchoGo Core quick, easy, and affordable to roll out, no matter what existing equipment or vendor you have, and ensures you always have access to the most up-to-date version of EchoGo Core.
5. Reimbursable
EchoGo Core also offers further monetary benefits as Cardiac Strain is now reimbursable when using EchoGo Core.
Cardiologists based in the United States can report and bill for myocardial strain imaging using the Category 1 CPT code +93356.
EchoGo Core is the first echocardiography service to achieve CPT Category 1 status in years, which just serves to highlight the accuracy and precision of the software as a prognostic indicator of LV function. There is a high expectation that this process will become the standard for best clinical practice over the next few years.
Introducing EchoGo Core Into Your Lab
By automating manual tasks and augmenting human expertise, AI can drive greater accuracy and efficiency in echocardiography. The machine learning algorithms built into EchoGo Core AI allow large quantities of complex echo data to be analyzed quickly and accurately. This automation leads to lower costs, improves the quality of results within the echo clinic, and is fully scalable.
Satisfaction of both patients and physicians are consistently shown to increase as a result, as hospital staff can increase throughput, patients receive faster and more accurate results, and readmission rates decrease.
Automation of the echo process is quickly becoming common in clinics across the world, so introducing EchoGo Core into your clinic sooner rather than later will put your practice well ahead of the chasing pack.
Download our latest whitepaper for further information about how EchoGo Core can benefit your practice.
*EchoGo Core 2.0 is pending FDA 510(k) clearance.
References: