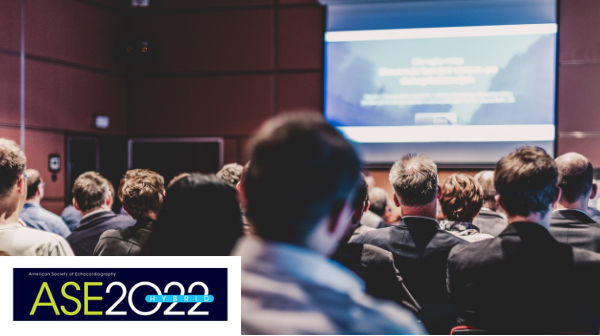 Highlights from ASE 2022 : Latest Cardiac Ultrasound Technology and Advances in Echo
The latest advances in cardiovascular echocardiography were presented at the ASE's 33rd 2022 Annual Scientific Sessions on June 10-13 in Seattle. Echo enthusiasts from all over the world came together for the annual Scientific Sessions event to learn, network, and collaborate to advance the field.
We saw stimulating discussions from the echo community on foundational concepts and evolving practice, and several companies made major announcements about new innovation, including artificial intelligence.
Keep reading to learn more about two major topics at ASE 2022.


Strain Imaging Seeing Increasing Use

There were numerous sessions on the topic of strain imaging at ASE. Echocardiographic strain imaging has been developed as a means to objectively quantify regional myocardial function. The value of strain in echo exams has been well documented, the technique has seen an increase in clinical adoption over the past decade, including being recommended by industry taskforce.
Related: Q&A with Prof. Paul Leeson on 2022 ASE/AHA/EAVCI Heart Failure Guidelines.
Echo leaders shared their success at ASE 2022 with using the technique to track myocardial damage and prevent heart failure. Strain is an index of myocardial function, and decreases earlier than the ejection fraction, thus making it a better prognostic value over ejection fraction (EF).

In a dedicated session reviewing The World Alliance Societies of Echocardiography (WASE) research, Dr Ilya Karagodin noted strain's ability to predict cardiac outcomes in the COVID population.
The study described echocardiographic characteristics and identified parameters that would be prognostic of clinical outcomes in patients admitted with acute COVID-19 disease.
The study was conducted with medical centers from 9 countries including the US, Italy, Mexico, United Kingdom, France, Iran, Philippines, Brazil, and China. Principal Investigators were Dr. Roberto M. Lang, and Dr. Federico M. Asch.
Global Longitudinal Strain (GLS) was able to predict patient mortality, when EF did not. In addition, using AI-enhanced GLS was able to predict patient mortality, when analysis using manual software could not. It also minimized variability between operators; this lower variability of measurements led to a higher predictive value.

Another highlight was Dr Patricia A. Pellikka, Echo Director at Mayo Clinic, who shared her results with heart failure patients. She found using AI-enhanced GLS, gave her the ability to detect heart failure in patients with preserved ejection fraction (HFpEF) with a 96% accuracy. The AI system developed in this study was rapid, time-saving, and accurate to facilitate HFpEF diagnosis.
AI Meets Echo
AI was another hot topic at ASE 2022. AI technologies provide new possibilities for echocardiography to generate accurate, consistent and automated interpretation of echocardiograms, and can be integrated into existing cardiac ultrasound systems.
Next generation AI systems were showcased at the show, these tools take analysis one step further, providing a fully managed service for echo departments to optimize their IT infrastructure and reduce costs, while also supporting echo staff with doing more with echo images and saving time.
AI systems like FDA-cleared EchoGo Core connects via the cloud and uses the power of AI to automate data in the background and provide markers for early stage disease and risk stratification that are not evident to the human eye.
Related read: 5 Reasons Why Echocardiography Analysis Is Moving To The Cloud
The revolutionary system is speeding workflow by automating quantification, and providing greater prognostic values by combining measurements such as EF and Strain.
It has the ability to pull out the optimal views and automate contours, without any manual intervention necessary, drastically reducing both variability and the amount of time needed to make measurements, opening up the possibility for ultrasound data will be able to be processed in real time.
Learn how you can take advantage of AI and GLS in your echo department, speak to a member of our team.