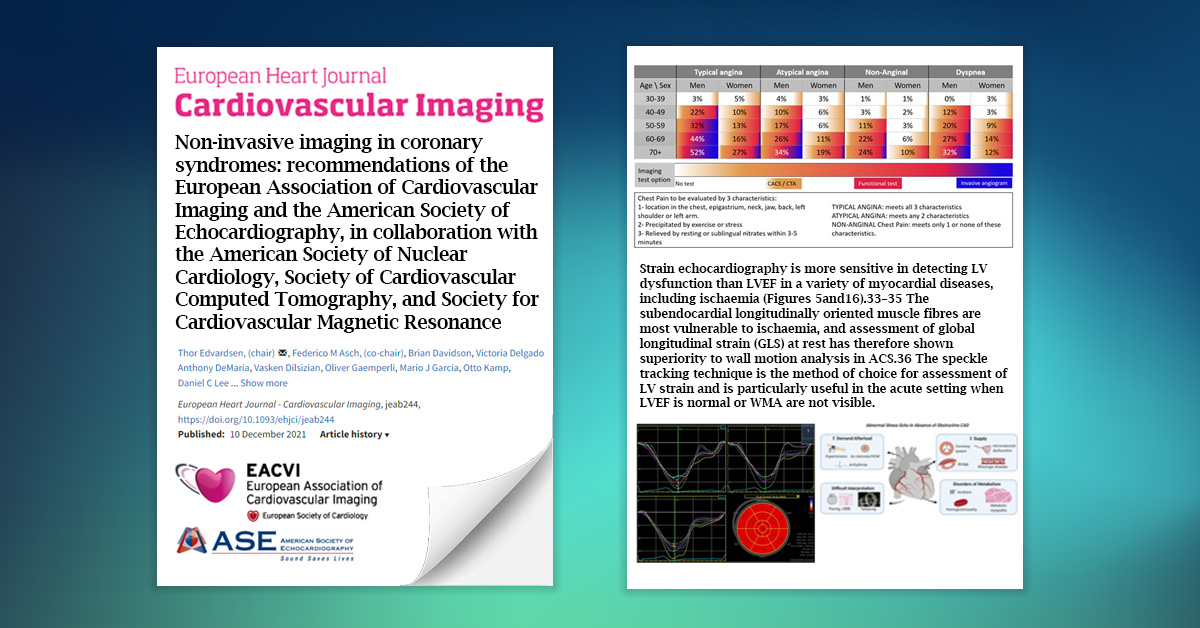 EACVI and ASE present a new pathway for better CAD detection: The guidelines for non-invasive imaging in coronary syndromes
Professor Paul Leeson, Professor of Cardiovascular Medicine at the University of Oxford, and Academic Founder of Ultromics, discusses the new guidelines for CAD detection and advances in AI in echo.
The EACVI and ASE have expanded the role of echocardiography to support the fight against coronary artery disease (CAD), with rest and stress echo being fundamental to the detection, prognosis and risk stratification of those with coronary artery disease, and new addition of global longitudinal strain.
Echocardiography has always been a part of the CAD patient pathway, but new guidelines have now reinforced the modality's central role in diagnosis and management.
Non-Invasive Imaging in Coronary Syndromes, published in December 2021, outlines the recommendations from the European Association of Cardiovascular Imaging (EACVI) and the American Society of Echocardiography (ASE).
Developed in collaboration with the American Society of Nuclear Cardiology, Society of Cardiovascular Computed Tomography, and Society for Cardiovascular Magnetic Resonance, it advises left ventricular function (LV) be assessed, by resting echo, as a first line test in all patients suspected of acute or chronic CAD – one of the major causes of mortality and morbidity worldwide.
In addition, they recommend strain be measured on all echo tests, acknowledging the metric is more effective at detecting early disease and predicting outcomes than the traditionally used ejection fraction (EF).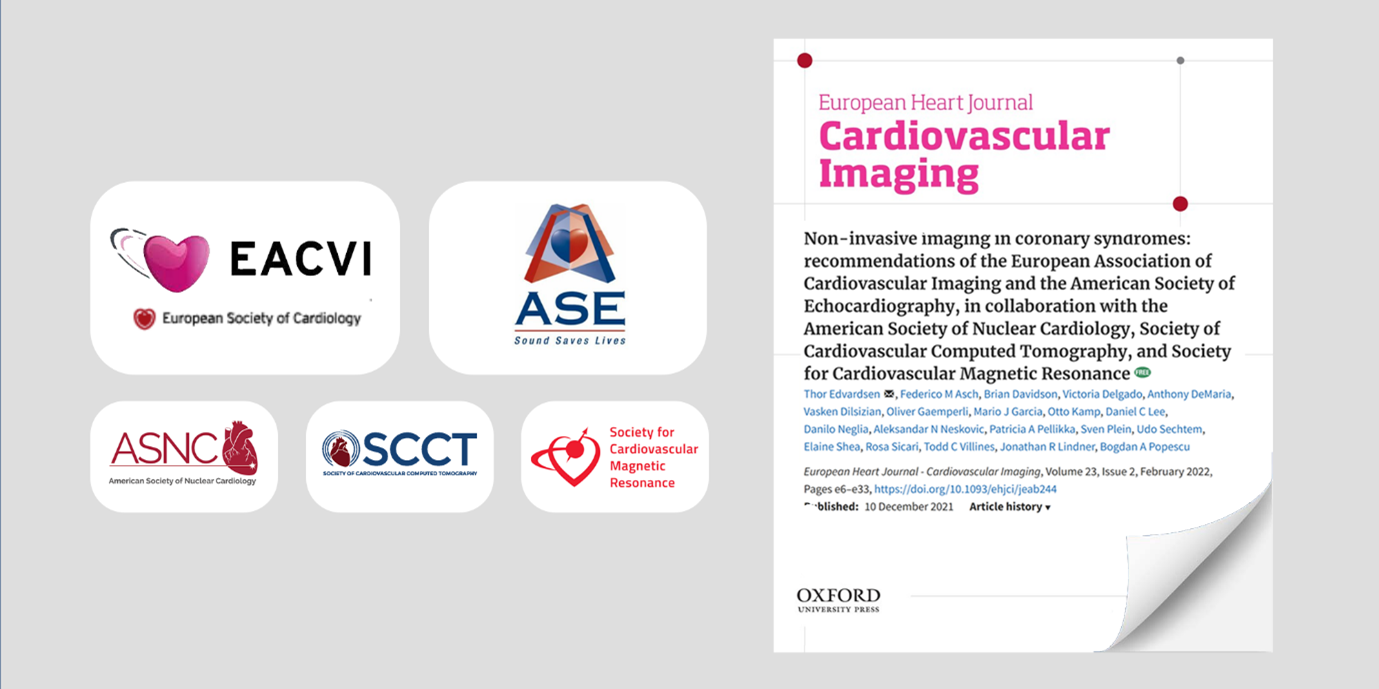 "Echocardiography is most frequently used in patients with CAD to assess global and regional systolic function at rest or during stress. Global systolic function is commonly evaluated by measurement of the LV ejection fraction (LVEF)," said the authors.
However, strain echocardiography is more sensitive in detecting LV dysfunction than LVEF in a variety of myocardial diseases, including ischaemia, one of the main manifestations of CAD.
"The subendocardial longitudinally oriented muscle fibers are most vulnerable to ischaemia, and assessment of GLS at rest has, therefore, shown superiority to wall motion analysis in acute coronary syndromes," said the guideline.
Other recommendations include the use of stress echo for high-risk patients, and, for the first time, a three-month follow-up, and annual monitoring scans through resting echo.



Challenges and opportunities
We know that despite its potentially catastrophic consequences, CAD is often undertested, underdiagnosed, and undertreated.
Raising the profile of echo, and confirming its safety, cost- and clinical-effectiveness, the guideline opens the door for the modality to be conducted in the community, providing more accessible care, driving earlier detection, and, crucially, improving outcomes.
Yet despite such golden opportunities, echo as a modality faces a raft of challenges that could thwart its ability to help stem the tide of CAD.
To detect the condition on echo, clinicians compare images of the LV wall motion in resting and after exercise or pharmacological stress.
In healthy hearts, myocardial contractility increases as the heart rate rises, but in areas affected by CAD, the myocardium becomes ischaemic, and contractility reduces. Identifying this regional wall motion abnormality "by eye" requires expertise, and inter- and intra-observer variability can be high.

Traditional software for examining echocardiogram scans requires manual manipulation of contours and parameters, which result in variability in results. This variability in analysis can lead to missed opportunities, misdiagnosis, repeat studies, and inconsistent interpretation.
Further, while GLS has been shown to be more effective than LVEF, using the method in practice has required additional training, specialized equipment, and additional imaging and analysis time. This has proved near on impossible at a time when teams are being asked to cope with increasing demand despite significant skills shortages.
Embracing advances
Against such a backdrop, echo teams may wonder how to implement new recommendations, such as those set out in these new guidelines. But using a cloud-based service to automate image assessment and GLS measurement could help to overcome variability, as well as time and resource limitations. Such a service still uses AI, but provides automation as a service and sends reports, for optimal time-saving.

One study in JACC Imaging, which compared human alone to AI-assisted classification of CAD on stress echo, found Ultromics' cloud-based service, EchoGo, improved performance and confidence in the result, and led to a 10% increase in sensitivity.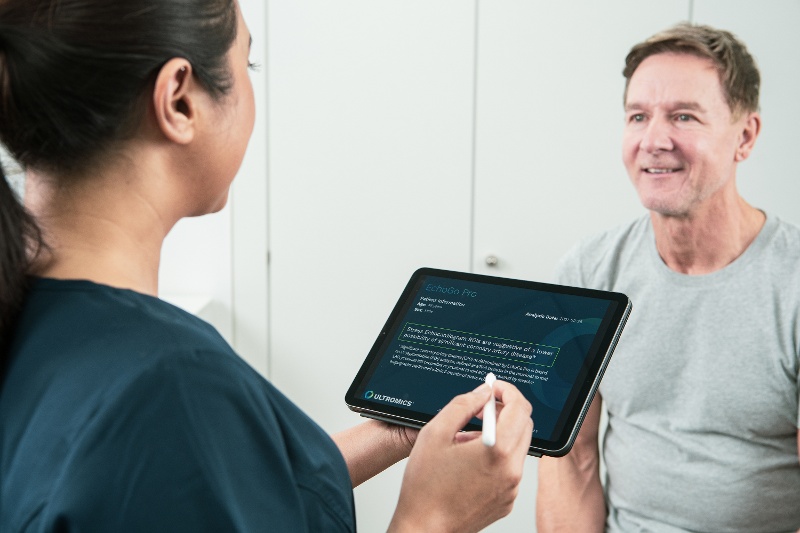 Another peer-reviewed study in JASE, the WASE COVID-19 study, conducted a robust reproducibility analysis with several rounds of manual measurements, and concluded that GLS measured by Ultromics' EchoGo offered more accurate predictions of patient outcomes, including mortality, than manual readings.

The new diagnostic pathway
As crucial as this all is for patient care, it will significantly increase workloads for outpatient/hospital echo teams at a time when they are already facing increasingly unmanageable waiting lists and skill gaps.
Ultromics' advanced AI solutions can be used along the new pathway to increase capacity and fill existing skills gaps.

Anyone presenting in primary care or A&E with chest pain should, under the guidelines, be assessed on resting echo. With traditional methods, this presents a challenge in terms of both time and expertise.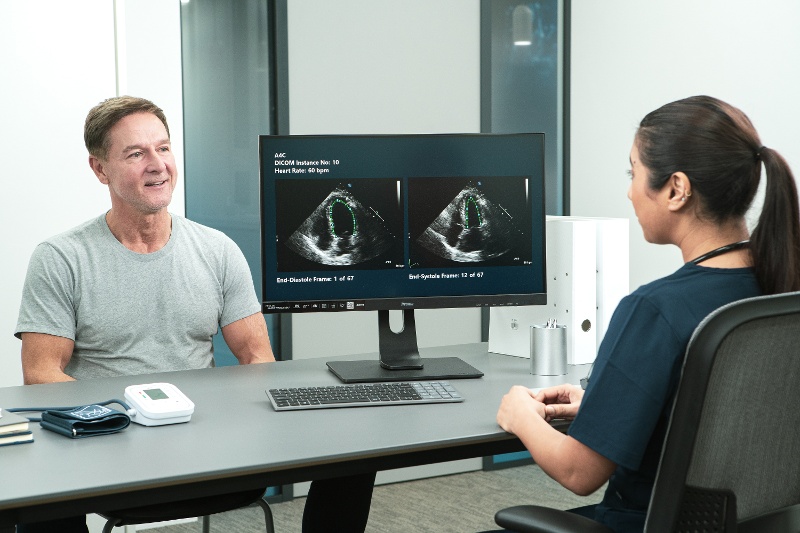 But EchoGo Core, AI-driven advanced LV analysis, can help. It connects to PACS, automatically retrieves scans for analysis, and provides reports, without any need for manual intervention. Not only is the fully automated platform precise and accurate, but it eliminates operator variability. EchoGo Core automates over 230+ measurements, including LV ejection fraction, strain and volumes. The cloud-based service is complemented by EchoGo Pro, a stress echo module, which uses cutting-edge machine learning algorithms to provide reports that support the detection of CAD.

Ultimately, this new pathway places an important emphasis on early detection and longitudinal monitoring. This is a great step forward to improving patient outcomes, preventing heart attacks and reducing huge costs to health systems, and EchoGo can help enable this transition.
Find out how Ultromics' cloud-based platform could revolutionize how your team detects and diagnoses heart disease.