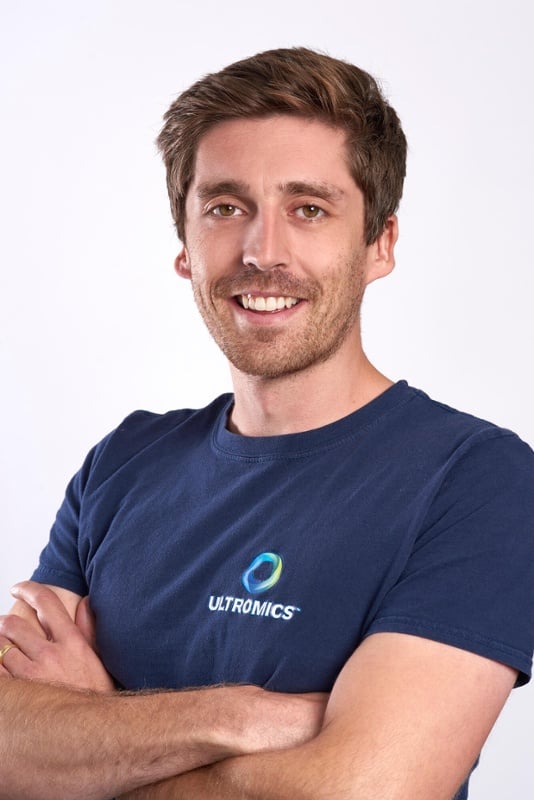 Ross Upton
Founder & CEO
Dr Ross Upton is the CEO and founder of Ultromics, a global health technology company providing artificial intelligence solutions to help healthcare professionals around the world better predict patient outcomes in the field of cardiovascular imaging.

The technology is designed to improve both clinical outcomes in patients and save billions of dollars for healthcare systems, by unlocking the full potential of the most widely used modality for diagnosing cardiovascular disease, echocardiography (cardiac ultrasound).

Upton has a broad scientific background having undertaken 4 degrees in the clinical sciences. He went on to complete two masters, one in Clinical Biochemistry and one in Cardiovascular Imaging, before embarking on a PhD in Cardiovascular Medicine at the University of Oxford.

Upton trained as a sonographer within the NHS while doing his studies, performing echocardiograms and analysing images whilst also studying the data science that underpins Ultromics' technology.

During his PhD, Upton set out to tackle the problems associated with echocardiograms and together with his Professor at the time, Prof. Paul Leeson (and co-founder of Ultromics), designed an algorithm that could bypass its limitations. This is the underlying technology that is used in Ultromics today. Ultromics was officially founded in 2017 and spun-out of the University of Oxford.

Over the last 4 years, Upton has built Ultromics to be one of the most prominent companies in healthcare AI, leading the creation of its first product – EchoGo - that is now award-winning, CE-marked and FDA-cleared, and is supported by the NHS England and world-renowned sites such as Mayo Clinic.

Upton has successfully raised multiple rounds of funding and was named on the 2019 Forbes 30 under 30 lists for science and healthcare.