Microsoft Azure customers worldwide now gain access to the Ultromics' EchoGo service for automated echocardiography analysis.
[Oxford, UK. February 4th 2021]

Ultromics, a global leader in AI solutions helping clinicians diagnose cardiovascular disease, today announced the availability of its EchoGo service on the Microsoft Azure Marketplace, an online store providing certified software applications and services for use on Microsoft Azure.

EchoGo is an AI service, built in partnership with the NHS and trusted by leading cardiology centers around the world, that clinicians can use to analyze and interpret echocardiography data – including measuring of Systolic function and Strain.

Taking advantage of this latest innovation in healthcare is critical in helping hospitals adapt and transform, to support improvements in care outcomes, patient experience and solve the issue of scarce resources. EchoGo uses artificial intelligence to fully automate the pathway to diagnosis, providing near-instant reports for clinicians without any need for physical software on site. It can increase productivity and the efficiency of care delivery, allowing healthcare systems to provide care to more people, whilst also reducing staff burnout.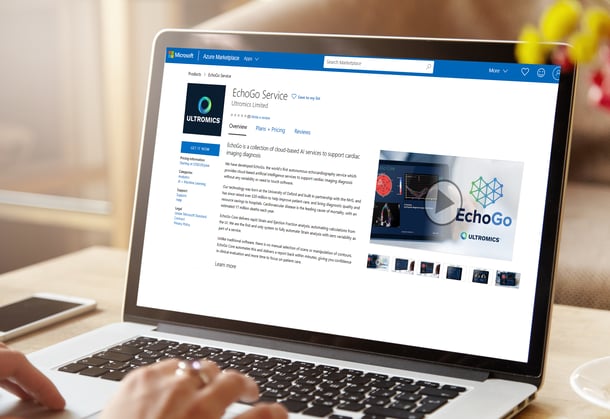 "At Ultromics, we help hospitals save lives and free up clinicians time. With rising numbers of COVID-19 cases and a huge backlog of patients waiting for ultrasound scans, diagnosing patients in the quickest and safest way is critical. EchoGo enables clinicians to focus their valuable time on other more important actions rather than manually analyzing complex data.", said Dr Ross Upton, CEO and founder of Ultromics.

For Azure customers, availability of EchoGo in the Microsoft Azure Marketplace presents a streamlined way for hospitals to automatically analyze echocardiogram data at scale in their Microsoft environment of choice. EchoGo on Azure is delivered as-a-service and fits seamlessly into any infrastructure. Hospitals can sign up in minutes, start small and scale up when needed.
"We are pleased to welcome Ultromics to the Microsoft Azure Marketplace. Healthcare providers are looking for solutions that are trusted, secure and simple to deploy that come fully managed with 24/7 support. EchoGo is a secure solution enabling hospitals to take their workforce analysis off-site, via the Microsoft Azure cloud" said David Houlding – Director of Healthcare Experiences at Microsoft.
Microsoft Azure Marketplace is an online market for buying and selling cloud solutions certified to run on Azure. The Azure Marketplace helps connect companies seeking innovative, cloud-based solutions with partners who have developed solutions that are ready to use.


About Ultromics:

Ultromics is a global health technology company which provides autonomous echocardiography analysis through innovative AI solutions – empowering physicians to make fast, accurate decisions when diagnosing cardiovascular disease. Our cloud-based service, EchoGo, uses artificial intelligence to fully automate the pathway to diagnosis, providing near-instant reports for clinicians without any need for physical software on site. Our aim is to save clinicians time and allow them to confidently make diagnostic decisions. We are helping healthcare providers streamline care, increase productivity and improve patient outcomes whilst also allowing them to make valuable resource and cost savings. For more information about Ultromics visit http://www.ultromics.com/