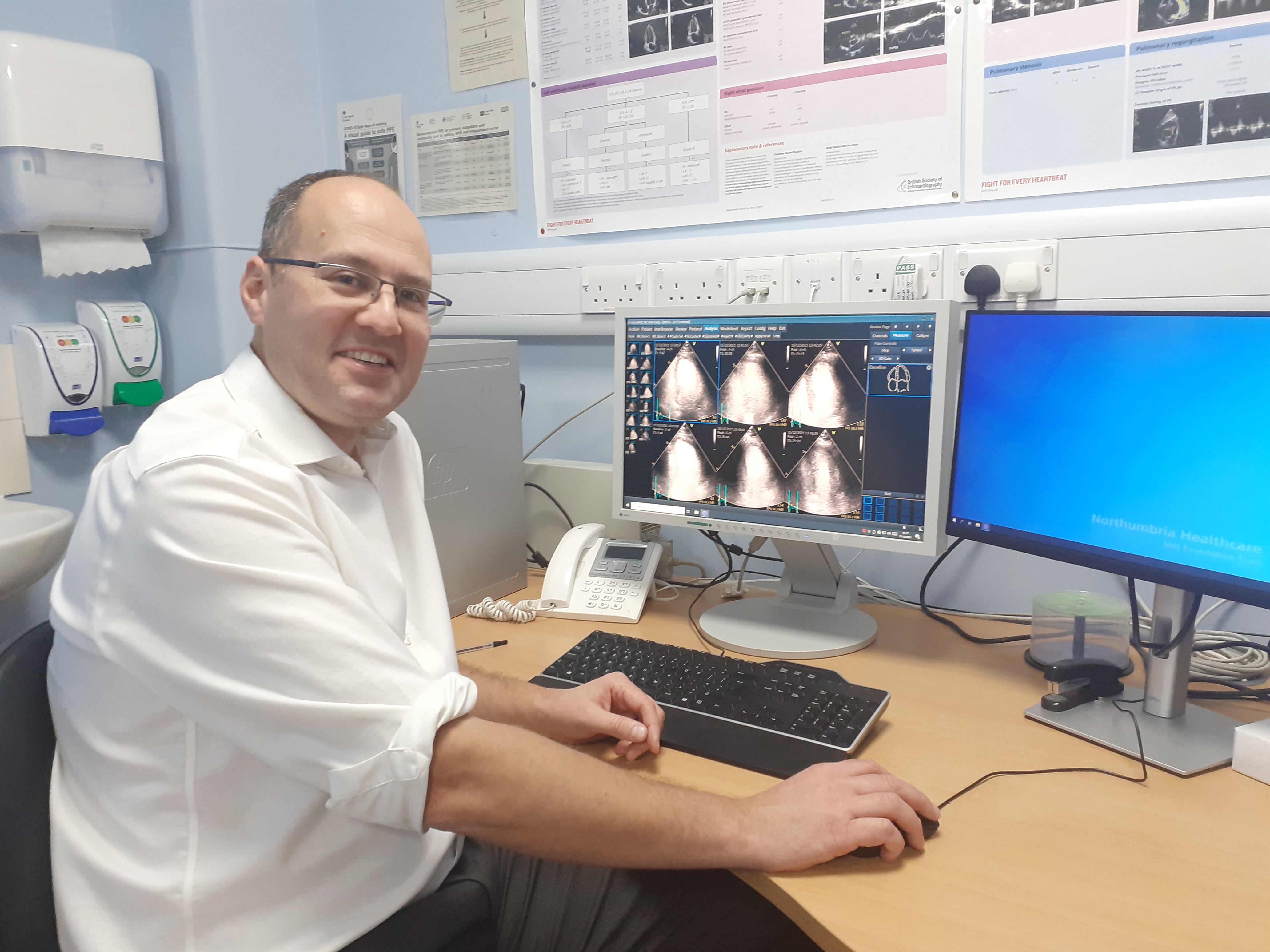 Northumbria Healthcare NHS Foundation Trust using AI to help detect coronary artery disease
Northumberland and North Tyneside hospital patients will be among the first in the UK to have clinical diagnoses supported by Ultromics' EchoGo platform
Northumbria Healthcare NHS Foundation Trust is working at the cutting edge of heart disease diagnosis through its partnership with a ground-breaking AI company.
For the first time, patients will have their heart ultrasounds analysed by a patented, automated, artificially intelligent (AI) platform that will help clinicians more accurately detect Coronary Artery Disease (CAD).
The Trust, which runs hospitals in Northumberland and North Tyneside, will use Ultromics' EchoGo platform to automate traditional analysis, unlocking the potential to rapidly analyse critical measurements for all patients, and ultimately predict CAD – something that is unheard of in the NHS today.
This news comes just weeks after the company's major new CAD research is published in JACC: Cardiovascular Imaging, Automated Echocardiographic Detection of Severe Coronary Artery Disease Using Artificial Intelligence, showing that Ultromics' EchoGo platform, powered by Artificial Intelligence (AI), significantly improved the accuracy and confidence in coronary artery disease (CAD) detection, including increasing sensitivity in CAD detection by more than 10%.
"A complex pathway of symptoms, circumstances and features means that it is not always easy to correctly identify CAD on first visit," said Dr David Ripley, the Trust's director of research and development and a consultant cardiologist. "We are using Ultromics' AI platform, EchoGo, in our echocardiography exams to analyse CAD patients and detect features that would have been impossible to detect using traditional software. EchoGo has the potential to improve the diagnostic accuracy of predicting coronary artery disease within our Trust.
"Given our involvement as this project has developed, we expect that EchoGo will make a real difference. Decisions will still be made by clinicians, but the interpretation of these cardiac images is subjective, and this will support analysis within our Trust."
Northumbria Healthcare will also use EchoGo in a head-to-head trial that compares how decisions supported by EchoGo fare against decisions without this tool in analysing patients with the potential of serious coronary artery disease.
"We believe this technology will improve accuracy in diagnosing something that is one of the biggest causes of premature death, particularly here in the North East," said Dr. Ripley. "It will help to provide the informed care that we strive to provide to all of our patients, ensuring that they can receive timely treatment that meets their needs while supporting longer, healthier lives for those in our communities."
"We are excited to work with Northumbria in advancing their echo interpretation using AI," said Dr. Ross Upton, CEO and founder of Ultromics. "EchoGo is proven to provide accurate and precise analysis with zero variability. By standardising the quality of analysis, we can improve the accuracy of coronary artery disease diagnoses."
The journey of EchoGo began with the EVAREST trial in 2015, to which the Trust recruited a significant number of patients. This EVAREST study is important because it identified echocardiography to be subjective and dependent on operator skill, with an estimated accuracy of approximately 80% for the detection of coronary artery disease. The results of this trial formed the basis for the JACC:CVI paper and supported the validation of the EchoGo technology.
Since then, EchoGo has been rigorously tested and validated, including receiving CE Mark and FDA clearance (approval for use in Europe and the US). Now, with Northumbria Healthcare, EchoGo's validation has expanded to include hospitals throughout the UK.
This follows the award of a grant by NHSx (the health service's digital innovation arm) to fast-track the company's technology across the UK, which was issued as part of the NHS AI in Health and Care Award programme in September 2020, with Northumbria Healthcare acting as a supporting site.
About EchoGo:

The EchoGo™ platform integrates directly with a customer's image repository and DICOM image exchange platform. Data is analyzed remotely through the cloud using a secure encrypted connection, and a report is automatically returned to the PACS, the preferred destination for reading by the cardiologist, with reports available via the cloud for easy retrieval from anywhere and at any time.
About Ultromics:
Ultromics is a fully automated software as a service platform powered by AI that allows clinicians to make fast, accurate decisions when using ultrasound images to diagnose cardiovascular disease. Born at the University of Oxford and built-in partnership with the U.K.'s NHS, Ultromics delivers analysis of echocardiograms within minutes, with zero variability, integrated seamlessly within existing workflow regardless of existing technology, with results so accurate and precise they have been proven to be meaningful predictors of outcomes. Ultromics has collaborated with leading research institutions, including the American Society of Echocardiography and Mayo Clinic. For more information, visit ultromics.com.
About Northumbria Healthcare NHS Foundation Trust:
Northumbria Healthcare NHS Foundation Trust is one of the largest trusts in the country geographically, providing services to more than 500,000 people across Northumberland and North Tyneside. Our staff provide care in hospitals, in the community and in people's own homes. Our facilities include a specialist emergency care hospital – The Northumbria at Cramlington; general hospitals at Hexham, North Tyneside and Wansbeck (Ashington); community hospitals at Alnwick, Berwick, Rothbury and Blyth; an integrated health and social care facility at Haltwhistle; an outpatient and diagnostic centre at Morpeth; and sexual health centres in North Tyneside and Northumberland. We are one of the North East's largest employers with around 11,500 dedicated members of staff and have been rated outstanding by the Care Quality Commission twice since 2016.
About EchoGo Core:
EchoGo Core applies artificial intelligence to automate the analysis on echocardiograms. The system has been validated with the NHS in the UK, in one of the largest echo studies of its kind, with over 8,000 patients in over 30 sites. It is a fully automated, zero-click system which has zero variability, so it allows physicians, regardless of skill level, to make an efficient and accurate diagnosis. Contact us today to learn more - sales@45.63.30.66
EchoGo Core is FDA-cleared for use in the United States, not CE Marked for use in the European Union.