Ultromics' EchoGo system selected among first winners of new £140m NHS AI in Health and Care Award
A pioneering AI platform that can predict heart disease will be implemented in NHS hospitals as part of the government's policy to fast track world-leading artificial intelligence systems in the UK. The platform, called EchoGo, uses machine learning algorithms to analyse ultrasound scans of the heart. This enables doctors to diagnose heart disease more efficiently and prevent heart attacks.
EchoGo has been developed by Ultromics, a world-leading cardiac health-tech company based in Oxford. The company was co-founded by CEO Ross Upton during his PhD studies at the University of Oxford, and Dr Paul Leeson, Ultromics' CMO, Professor of Cardiovascular Medicine at the University of Oxford, and Head of the Oxford Cardiovascular Clinical Research Facility. Ultromics was spun out of the University in 2017.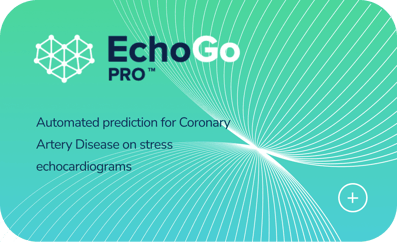 The company has today been announced by the NHS as one of the first winners of an AI in Health and Care Award and will receive a share of the funding totalling over £50m.
Dr Ross Upton, co-founder and CEO of Ultromics said: "AI can both help protect and transform the NHS. Post COVID-19, it has become even more evident that the NHS needs to find new ways of working. This initiative embraces the potential offered by AI to ease current difficulties in healthcare delivery with more accurate and faster diagnosis, and to significantly improve patient care and outcomes."
Announcing the awards, Sir Simon Stevens, NHS Chief Executive, said: "The NHS has and always will rely first and foremost on the clinical expertise of our staff, but the innovations we're funding today have the potential to save lives by improving screening, cancer treatment and stroke care for NHS patients across the country."
"We're still in the early stages of AI, but when the latest chapter in the history of medicine comes to be written, AI in health care will doubtless rank alongside earlier advances such as the stethoscope, the X ray and the blood test."
The NHS has identified 42 technologies to test in four phases of development, with EchoGo uniquely selected in both Phases 3 and 4, which are focused on technologies closest to market roll-out and scaling-up for full adoption by health providers.
The NHS is committed to becoming a world leader in the use of AI and its AI Lab, announced by the Prime Minister last year, is a key part of the health services' efforts to drive–up the use of innovative new technologies.
Official announcement on NHSX: https://www.nhsx.nhs.uk/news/nhs-ai-lab-speed-cancer-and-heart-care/
Notes to editors:
About the AI Health & Care Award Phases
Ultromics has been awarded grants for both phase 3 and 4:
Phase 1 – to support the demonstration of the technical and clinical feasibility of the proposed concept, product or service.
Phase 2 – to support the development and evaluation of prototypes and generate early clinical safety / efficacy data.
Phase 3 – to support the first real-world tests in health and social care settings of AI products or tools to develop evidence of efficacy and preliminary proof of effectiveness, including evidence for routes to implementation to enable rapid adoption.
Phase 4 – to support the spread of AI products or tools that have market authorisation but insufficient evidence to merit large-scale commissioning or deployment. Successful products will be adopted in a number of NHS sites to stress test and evaluate the AI technology within routine clinical or operational pathways to determine efficacy or accuracy, and clinical and economic impact.
About the Artificial Intelligence in Health and Care Award
The Artificial Intelligence (AI) in Health and Care Award aims to benefit patients by combining the power of artificial intelligence with the expertise of the NHS to improve health and care outcomes.
The award is making £140 million available over three years to accelerate the testing and evaluation of technologies most likely to meet the aims set out in the NHS Long Term Plan. Four phases of award are available to support AI solutions from initial feasibility to evaluation within NHS and social care settings.
The award is a competitive process run by the Accelerated Access Collaborative (AAC) as part of the NHS AI Lab, in partnership with NHSX and the National Institute for Health Research (NIHR).
About Ultromics
Ultromics is a global health technology firm which provides autonomous echocardiography analysis through innovative AI solutions – empowering physicians to make fast, accurate decisions when diagnosing cardiovascular disease. We have developed the first fully automated solution for echocardiography and strain analysis. The revolutionary platform, EchoGo, is a cloud-based AI service which delivers analysis to any vendor within minutes and with zero variability through its zero-click, full automation workflow.
Our technology was born at the University of Oxford and built in partnership with the NHS and has since raised over £20 million to help bring diagnostic quality to hospitals, improve patient care, and help make valuable resource and cost savings. Cardiovascular disease is the leading cause of mortality, with an estimated 17 million deaths each year. For more information about Ultromics – http://www.ultromics.com/
About the NHS AI Lab
The NHS AI Lab is a focal point to accelerate the safe adoption of AI into the front line of health and care. It brings together government, the NHS, academics and technology companies to help tackle some of the toughest challenges in health and care.
The NHS AI Lab believes in creating a sustainable health and care system which achieves better outcomes, equality and fairness for all. We want to support AI technologies that have potential to improve the quality of health and care services while building a robust ethical and regulatory framework to ensure patient and citizen safety.
https://www.nhsx.nhs.uk/ai-lab/
About the Accelerated Access Collaborative
The Accelerated Access Collaborative brings together industry, government, regulators, patients and the NHS to remove barriers and accelerate the introduction of ground-breaking new treatments and diagnostics which can transform care. The AAC supports all types of innovations: medicines, diagnostics, devices, digital products, pathway changes and new workforce models. https://www.england.nhs.uk/aac/
About NIHR
The National Institute for Health Research (NIHR) is the nation's largest funder of health and care research. The NIHR was established in 2006 to improve the health and wealth of the nation through research and is funded by the Department of Health and Social Care. In addition to its national role, the NIHR supports applied health research for the direct and primary benefit of people in low- and middle-income countries, using UK aid from the UK government – https://www.nihr.ac.uk/explore-nihr/funding-programmes/ai-award.htm