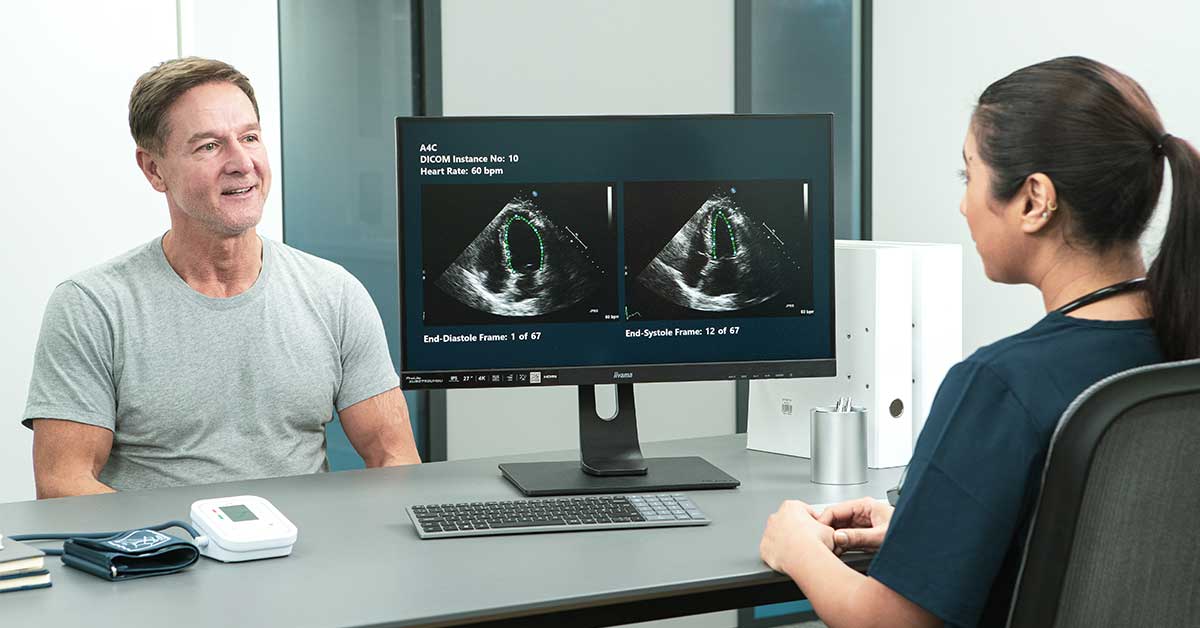 Q+A: How to Implement EchoGo Core in Clinical Settings to Improve Echocardiography



Chris Brown




Northeast Account Executive at Ultromics




Monica Baker

Client Success Program Manager at Ultromics


Crystal Lowery

Practising clinical sonographer at Ultromics
"In very little time, we've gone from being whispered about in luminary circles to uncovering utilities through our work with bigger ventures and research and being rigorously tested and validated in academia." – Chris Brown, Ultromics Northeast Account Executive
With EchoGo Core's powerful cloud-based AI revolutionizing the way healthcare providers measure, diagnose, and risk stratify heart disease patients, practitioners have been asking questions surrounding its implementation, especially with regards to the process of setting it up.
In this article, we'll take a closer look at this and answer some of the other frequently asked questions brought up in our latest webinar: "From consideration to implementation: first steps with Ultromics." Key speakers included Ultromics Northeast Account Executive Chris Brown, Crystal Lowery, practising clinical sonographer and member of the Ultromics team, and Monica Baker, Ultromics' Client Success Program Manager.
Related: Q+A: Using AI To Improve Heart Failure Prediction and Detection Rates
How Was Ultromics and EchoGo Developed?
Ultromics was born at the University of Oxford from leading minds in science and AI.
"The goal has always been to support clinicians with high quality automated interpretation of echo scans that enable expanded access to care while driving earlier detection of cardiovascular disease," says Chris.
Ultromics developed EchoGo with funding from the Oxford Sciences Innovation Venture Arm. During algorithm development at Oxford, the AI was fed a steady diet of outcomes-based data images of various qualities.
"The platform itself was trained using thousands of echo images acquired over a period of ten years as part of one of the world's largest echo studies of its kind," Chris continues.
The study Chris refers to, known as EVAREST, involves data that encompasses many clinical scenarios, such as incorporating poor image quality, to enable the application of the tool in the real world clinical settings. [1]
"Our goal is to provide consistent measurements with no manual interaction to improve efficiency and patient outcomes," Chris says. "EchoGo was born differently. It's not dependent on vendor hardware or software, or even an operator."
How Does EchoGo Work With Existing Tools and Processes?
EchoGo's novel AI technology has led many health providers to wonder whether their older software and machines can run the product. More specifically, one webinar attendee asked if EchoGo can run global longitudinal strain (GLS) measurements on machines without strain capability.
"That's exactly why we exist," Crystal says. "We just need a DICOM image. There's no need to have an on-cart software downloaded, you can just take your DICOM image and beam it up to the cloud to have it processed."
Not only does this mean that most health providers can onboard and begin seamlessly using EchoGo with their current PACS and software systems, but they can keep their equipment relevant for longer. Additionally, updates are fully managed and deployed by the cloud vendor to any type of location, regardless of the tech in place, as part of the service.
Another attendee asked whether EchoGo is available for smaller practices and single echocardiographers who are not associated with a hospital.
"We have all sorts of facilities using our service, from mobile clinics to big hospital organizations to academia," says Crystal. "Wherever you get echo done, you can get EchoGo."
How Long Does the Implementation Process Take?
Unlike other implementation processes, which can take months, onboarding EchoGo can take from three to six weeks. By week six, your site will "be up and running and reporting," says Monica.
"As long as your resources are available, we can move as quickly as the site will allow us," she continues. "If everyone is on the line and ready to go, we can implement a VPN connection in a couple of hours."
During the webinar, Monica gave attendees a week-by-week breakdown of how EchoGo is implemented:
Week One: This includes a kick-off meeting and clinical and technical assessment. Ultromics takes a deep dive into the provider's clinical workflows and tech environment. The team then drafts and delivers a detailed project plan.
Weeks two and three: Ultromics connects the VPN and performs the clinical and technological deployment of the system.
Weeks four and five: Ultromics performs numerous workflow reviews. The team also checks and optimizes images with the onsite clinicians.
Week Six: EchoGo goes live and the Ultromics Support Team begins to monitor the provider's site for any updates or needs. The team also provides weekly reports which include the volumes completed that week and acceptance and rejection rates.
Can You Illustrate How EchoGo Is A Return On Investment (ROI)?
EchoGo's ease of implementation means little to no downtime for training and no upfront costs or equipment investment. Added to this is its continuous ability to automate Strain, EF, and Volumes, which means healthcare professionals can implement measurements for their patients faster, and without variability.
"EchoGo is able to quickly and effectively increase the clinical performance of any lab," says Chris. "We're shown to generate a four to six times ROI, and all the while we're scaling across an organization and really improving patient outcomes through earlier disease detection."
EchoGo's benefits go beyond its first implementation. Ultromics is constantly innovating and ensuring that each of its products is updated seamlessly for all of its providers.
"We have brilliant minds coupled with the ability to be agile," Chris says. "So we're constantly looking at ways to improve our products, services, and technology."
EchoGo Saves Time and Eliminates Variability. What Evidence Do You Have To Support EchoGo's Ability To Achieve Zero Variability Reporting?

One of Ultromics' core tenants is to meticulously and continuously test all of its products.
"Our R&D team has rigorously tested [EchoGo] on separate data sets for precision and accuracy, with data coming in from hospitals around the world," says Chris. "EchoGo is able to successfully eliminate the variability every single time with unprecedented accuracy that was proven to be far superior to manual or semi-automated analysis. It produces indices that accurately correlate to a patient's known outcome."
These rigorous tests also included studies from the World Alliance Societies of Echocardiography, which found that EchoGo was able to predict mortality in patients when manual operators could not. [2,3]

EchoGo Core FDA submission
Speaking about the graph above, which compares manual operator variability with EchoGo, Crystal says, "A picture really is worth a thousand words. As a sonographer, even the best of us still have to make hundreds of micro decisions every time we are seeing a patient. Every one of those micro decisions changes the patient's measurement just a little bit. When you put something through an automated EchoGo platform with AI, you don't have any of those micro decisions."
Crystal adds that another drawback of manual measurements is confirmation bias. "If I think an EF should say 50 percent, I can make it say 50 percent, and that's not the best practice for our patients."
Strain is even more nuanced than that. "We're talking about a matter of one percentage point that can change patient outcomes." Added to this is decision fatigue, which Crystal says is prevalent among sonographers. "After making literally a thousand micro decisions in a day, you're burnt out. AI doesn't suffer from that."
References: